Skip to Content
Your NetSuite SuiteConnect East Invitation
SuiteConnect East at Modern Finance Experience, NYC 2/13/2018
You're invited as our guest on February 13th in New York City for the Oracle SuiteConnect East at Modern Finance Experience 2018. We've secured a limited number of passes for our clients and prospects.
Learn more and get your complimentary ticket here.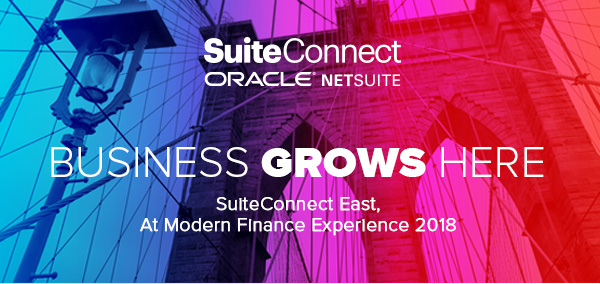 SuiteConnect East brings together 400+ users, prospective customers, Oracle and NetSuite executives, product experts, partners, press and industry leaders to discuss today;s business challenges.
SuiteConnect East – Where and When
Tuesday February 13th, 2018 at Sheraton Times Square, New York, NY.
Request your complimentary ticket here
Who should attend
CEOs, CFOs, finance executives, marketing, sales, eCommerce or service managers, NetSuite customers and partners.
Why Attend
NetSuite has worked with businesses across all industries to guide them through the many phases of growth, from start-up to ramp up to IPO and beyond. Learn how to crush the barriers to growth and why NetSuite is the last business system you will ever need.
At SuiteConnect East you will:
    Learn how successful organizations have grown and transformed their business to address next challenges
    Stay current with the new trends and challenges affecting business today
    Expand your network with an opportunity to engage with over 400 business leaders from across the world
    Engage with a growing ecosystem of NetSuite partners by visiting SuiteConnect East Expo
Featured Speakers
Mark Hurd – CEO of Oracle
Jim McGeever – EVP Oracle NetSuite Global Business Unit
Kelvin Joseph – Chief Marketing Officer and Chief Operating Officer, Steiner Sports Marketing
For more information call Randy Weitz at 646-961-4334