Skip to Content
MANAGE HR IN THE CLOUD
SuitePeople
NetSuite SuitePeople securely weaves people data throughout the Suite, giving businesses complete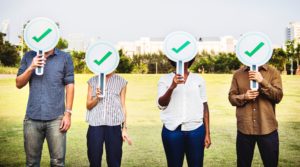 control over their Core HR processes. SuitePeople empowers Managers and HR professionals to streamline employee information, new hires, employee onboarding, payroll, promotions and compensation changes, all from a single Suite. While also enabling employees by providing them with the ability to request time-off, access employee directories and organization charts, monitor upcoming vacation schedules, monitor new hires, and publicly recognize peers for good work.
SuitePeople is built in Core NetSuite enabling:
SuiteCloud: Leveraging the SuiteCloud platform, so it can be customized and integrated into and always available, anywhere and always up to date on the latest release.
Role Based Security: Sophisticated role-based security allows executives, managers, supervisors and employees to support both themselves and their teams.
Universal Data: Like CRM and every other NetSuite module, SuitePeople ensures people information is available throughout the enterprise allowing companies to nurture, protect and develop their talent.
Global Reach: Built on the global platform, enhanced with HR localizations, ensuring companies can manage global workforces.
Unified Access: Part of the unified data model which allows people information to be seamlessly reported and analyzed from services, to the shop floor and the warehouse.
CORE HR CAPABILITIES
NetSuite SuitePeople Core HR Capabilities include native organization design, job management, workflows and compliance management, all powered by effective-dated employee master data, providing HR with the systems they need to run a best-in-class operation.
Standardize best practices for winning deals by linking your sales process and the customer buying process.PAYROLL
With new features such as multi-jurisdiction taxes and benefit & deductions as rates coupled with an enhanced UI, NetSuite SuitePeople makes managing payroll easier than ever.
EMPLOYEE CENTER
The Employee Center helps put your people first in your organization by providing an additional role tailored to your people which allows them to complete tasks that matter to them. It helps provide your people with clarity around usage and status of their benefits, visibility into the organization and where they and their peers live within their organizations hierarchy, and access to information that matters to them.
HR ANALYTICS
HR Analytics provides organizations with an overview of their head count trends. Human Resources personnel can easily visualize the head count, growth and turnover trends of the organization, segmented by departments, locations, employee class and subsidiaries. HR can also apply filters to view specific groups of employees.